Faculty & Staff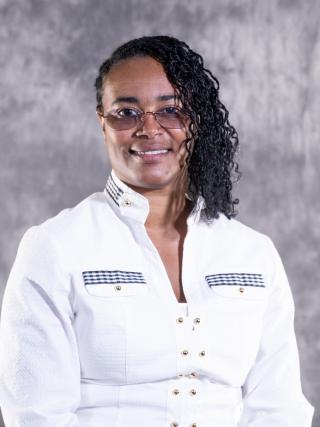 Dadria Lewis
Chair, Psychology
Assistant Professor of Psychology
(403) 782-3381 x 4151
Office location: Chan Shun Science Centre
dadrialewis@burmanu.ca
Education
Master of Education and Education Specialist, University of Florida
PhD in Counseling and Counselor Education, University of Florida
Biography
Dadria Lewis has a passion for promoting wellness in children and families. She holds a Master in Education (M.Ed.) and Education Specialist (Ed. S.) degrees in Marriage and Family Therapy and a Ph.D. in Counselling and Counsellor Education with a concentration in Mental Health Counselling. She is currently an Assistant Professor and the Chair for the Psychology Department at Burman University. She previously served as an assistant professor and fieldwork and practicum coordinator at Northern Caribbean University (NCU), Jamaica, in the Behavioural and Social Sciences Department. Through this Department she was involved with the Proactive Violence Interruption Strategy (PVIS) outreach into troubled communities and has also presented in the parenting and youth empowerment programmes for the Community Counselling and Restorative Justice Centre, Manchester, Jamaica. She has presented nationally and internationally and participated in a disaster mental health outreach project in Southern Africa. Dadria Lewis is married to Delano Lewis, Ph.D. and that union has been blessed with three children.
Current Research or Professional Activities
Bourne, P.A., Sharpe, C.L., Peterkin, V., Solan, I., Lewis, D.R. (2018).   Students' perception of curbing deviant behaviours in Jamaican secondary schools: An assessment of the corrective measures used in behaviour modifications by school personnel. Insights of Anthropology, 2 (1), 36-66.
Bourne, P.A., Sharpe-Pryce, C., Francis, C., Hudson-Davis, A., Solan, I. Lewis, D.R., Quarrie, V.L., Nelson, S., George, M. (2016). The social psychology of religion and well-being: Is a belief in a God, good for one's well-being? An empirical inquiry. Journal of Advanced Research in Psychology and Psychotherapy, 3 (1), 8-27.
Bourne, P.A., Sharpe-Pryce, C., Francis, C., Hudson-Davis, A., Solan, I., Lewis, D., Watson-Coleman, O., Blake, J. (2015). Women promiscuity and reproductive health matters: Findings and policy implications. International Journal of Emergency Mental Health and Human Resilience, 17 (1),  224-233
West-Olatunji, C. Jean-Paul, N., Shure, L., Goodman, R. D., & Lewis, D. (2014). Culture-centered research and counselor efficacy. Turkish Psychological Counseling and Guidance Journal.
West-Olatunji, C., Shure, L., Pringle, R., Adams, T., Lewis, D.R., Cholewa, B. (2010). Exploring how     school counselors position low-income African American girls as mathematics and science         learners. Professional School Counseling, 13 (3), 184-195.   
 West-Olatunji, C., Shure, L., Pringle, R., Lott-Adams, T., Baratelli, A., Milton, K., Flesner, D. M. &     Lewis, D.R. (2008) Rites of passage programs as strength-based interventions to increase         mathematics and science achievement among low-income African American youth. The         International Journal of Learning, 15 (9), 1-10.

Other Professional Activities 
Member of the University Council of Jamaica (UCJ) Psychology and Professional Counselling Standards Committee.
This committee has been tasked to develop standards for the recognition and accreditation of Master's Degree programmes in Psychology and Professional Counselling in Jamaica

Centre for Traumatic Stress Research (2013 – Present) (formerly Pediatric Counselling Research Team) Duties: Member of a team of students and professors who supports each other with their research objectives