Faculty & Staff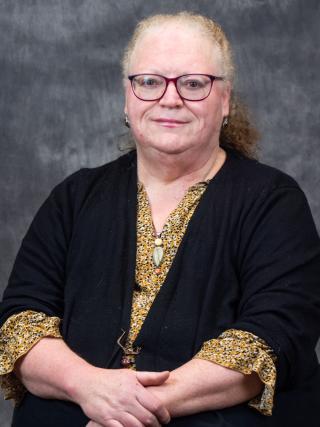 Education
DMA, University of Minnesota
MMus, Northwestern University
BA, University of Victoria
Areas of Expertise
Wind Bands
Chamber Music
Trumpet Lessons
Studio
Brass Ensembles
Women in Music
Business of Music
Biography
Dr. Karen Gustafson, a native of Saskatoon, Saskatchewan, is currently residing in Red Deer, with her husband and several furry family members, where she enjoys camping and spending time gardening. She is currently teaching at Burman University having previously held positions as Professor of Music at Red Deer College, Associate Professor of Music at the University of Alaska Fairbanks, and Assistant Professor of Music at Oklahoma City University, and Trumpet Instructor at McMaster University. Areas of specialty include conducting Wind Bands, Chamber Music, Trumpet Lessons and Studio, Brass Ensembles, Women in Music, and The Business of Music. She has been fortunate to extend her career across the USA and Canada as well as in Asia and Australia to work with ensembles and students of varied skill level, from beginner to professional. She has performed from Italy to Malaysia to Australia and across the Americas as a trumpet soloist and with the Borealis Brass as well as an orchestral and chamber musician.
Currently she performs with the Central Alberta Chamber Players and regularly performs in professional ensembles in the area such as the Rocky Mountain Symphony, and Altius Brass. Other performance credits include the Bach Chamber Players of St. Paul (Minnesota), the Minnesota Orchestra, Principal Trumpet with the Fairbanks Symphony/Arctic Chamber Orchestra, Opera Fairbanks, Enid (Oklahoma) Symphony, Niagara (Ontario) Symphony, and the Scarborough Philharmonic. Dr. Gustafson has also performed and/or presented clinics at the Alberta Music Educators Conference, 'Donne in Musica' Adkins-Chiti Foundazione (Rome, Italy), the International Alliance of Women in Music Conference, the UNESCO World Forum on Music (Los Angeles), the International Women's Brass Conference, and the International Trumpet Guild Conference. Unique and original music for brass and chamber ensemble are released on albums "Pacific Crossings" (2017, featuring Malaysian Gamelon) and the Borealis Brass "Roman Holidays" (2010, world music by women composers.) In July 2019 she performed at the International Trumpet Guild Conference in Miami, Florida presenting new works from the Estonian Trumpet Literature. Recently, during Covid, the Central Alberta Chamber Ensemble has performed numerous outdoor concerts in all styles, from classical to pop to country, in Red Deer for the community.
Dr. Gustafson holds a Doctor of Musical Arts degree from the University of Minnesota, a Master of Music degree from Northwestern University (Illinois,) a Bachelor of Music degree from the University of Victoria (B.C.), and a diploma in Orchestra Performance from The Royal Conservatory-Toronto.